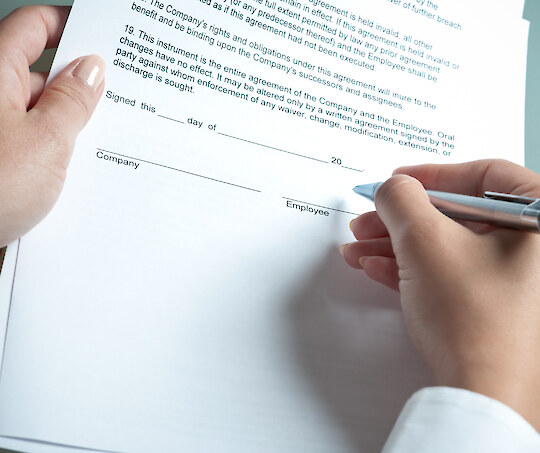 A good employment relationship is founded on certainty of terms for both the employee and employer. This comes from having a well-drafted employment agreement which clearly sets out the expectations, obligations and entitlements of each party. A well-written agreement can help maintain clear, productive working relationships and can mitigate or even prevent future disputes.
Every employee must have one
Every employer must provide a written agreement for each employee they employ. If requested, the employer must provide the employee with a copy of this agreement. Employers could be liable for a penalty of up to $1,000 per employee without a written agreement.
Don't cut corners
When it comes to drafting agreements, getting it right it important. Although it may be tempting to rely on free templates off the internet, this could end up being a costly exercise. A template that is ten years old or based on employment law from Outer Mongolia, is not necessarily a good idea.
A poorly-drafted agreement, which does not reflect current New Zealand employment law simply will not be helpful to an employer if the matter results in a dispute which finds its way to the Employment Relations Authority (ERA) or the Employment Court.
Large penalties for breaches of employment law
For example, if the agreement does not appropriately reflect minimum entitlements, employers may be liable for penalties of up to $20,000 for a company and $10,000 for an individual in the ERA. For more serious breaches i.e. breaches of the Minimum Wage Act 1983 or Holidays Act 2003, the Employment Court has jurisdiction to award pecuniary penalties of up to $50,000 for individuals and $100,000 or three times the financial gain from the breach for companies.
Employers can also be publicly named if they breach standards.
These penalties do not include liabilities for compensatory payments, lost wages, lawyers' fees or litigation costs – all of which may also be payable as a result of getting agreements wrong.
In short, seeking legal advice before you hire new employees is worth your while. If you are looking to hire new staff and do not have up to date employment agreements, get in contact with one of our friendly employment team at PRLaw.